Korean SK Group wants to invest in a hydrogen production project in Can Tho
(KTSG Online) – At a meeting with the People's Committee of Can Tho City, Korean SK Group wanted to invest in a hydrogen gas production project in this locality. This green development orientation is in line with Vietnam's commitments to the world.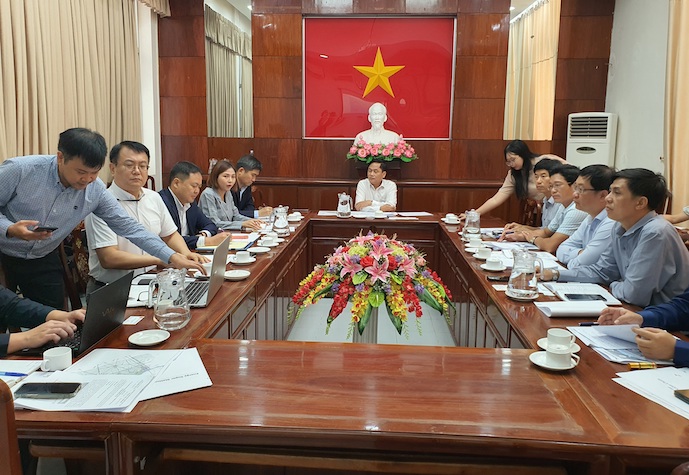 Delegates attended the meeting taking place today, October 11th. Photo: Trung Chanh
At the meeting held today, October 11, in Can Tho City, Mr. Lee Dong Uk, a senior adviser to the office of the Chairman of SK Group, said that over the past time, Vietnam has implemented many plans. develop clean energy, including solar energy, wind power and gas.
However, according to him, with the development trend of the future, in addition to the above types of energy, it is necessary to study the formation of another type of energy, which is hydrogen gas.
According to Mr. Lee Dong Uk, hydrogen is a clean gas that has received the attention of many countries around the world. "We own the technology to produce hydrogen gas and have many partners who use it, so we can produce this clean gas together," he said.
Meanwhile, Mr. Lee Dong Uk said that Can Tho city is the center of the Mekong Delta, having a connecting airport is one of the suitable conditions for this unit to invest in a project here.
According to him, the fact that Can Tho has the orientation to develop the gas thermal power center in O Mon is also a condition for this unit to form a hydrogen production project. "The actual plan for a hydrogen-related production project, we want to implement in Can Tho. Currently, we are in the process of developing a master plan for this project," said Mr. Lee Dong Uk.
In addition to the above project, SK Group Korea also wants to build large truck and public bus service stations in Can Tho City. Here, will provide electric charging, hydrogen gas recharging, catering, shopping, repair and sports services... for drivers.
According to Mr. Jeong Seung Hwan, CEO of SK Vietnam, the above models need a fairly large area, from 6,500-10,000 m2. "With this model, we want to deploy it in industrial parks and docks," he said, adding that combining this model with energy from hydrogen will help Can Tho develop sustainably in the direction of sustainable development. environment-friendly, in line with the commitments made by Vietnam.
"As far as we know, Vietnam's plan to 2050 will gradually convert buses and cars to use clean energy. Therefore, we want to cooperate with Can Tho to establish parking stations, power stations, and hydrogen gas pumping stations, which are suitable for the future conversion plan," added Mr. Jeong Seung Hwan.
From a local perspective, Mr. Nguyen Van Hong, Vice Chairman of Can Tho City People's Committee, said that the investment desire of enterprises is completely consistent with the development orientation of the locality. "Investing in two projects in Can Tho at this time is the right time," he said.
In addition to the commitment to create favorable conditions, Mr. Hong also directed the local departments and branches together with the Korean SK investor to set up a "group zalo" to discuss and remove difficulties together in order to quickly implement the project. Realizing the project investment in the locality.